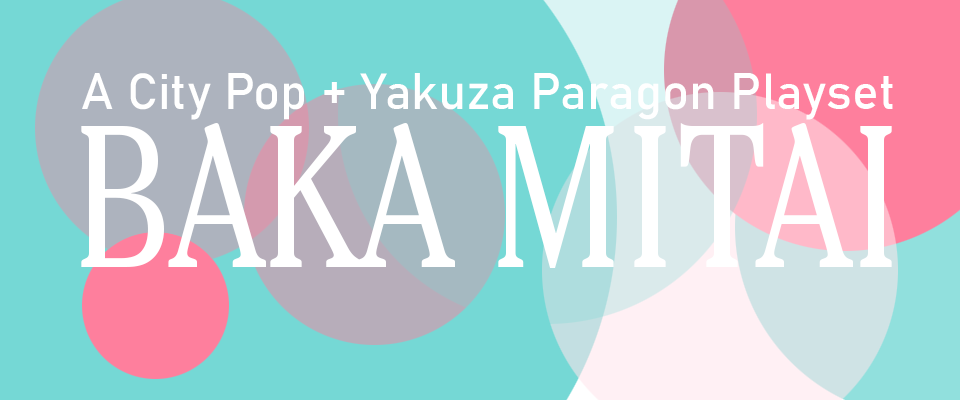 BAKA MITAI - a Yakuza-inspired city pop Paragon Playset
BAKA MITAI is a city pop, Yakuza-inspired playset for the PARAGON system from the AGON roleplaying game. A copy of AGON is required to play. For more on the PARAGON system, including how to publish your own playsets, visit AGON-RPG.com.

The economic boom of the 80s promised a life of glitzy decadence and endless neon opulence for all. That was a crock of shit, huh? The same fat cats who had it made before have it made now. "Legitimate" businesspeople and crime lords mingle with each other and live in luxury and splendor all throughout Japan while hard-working common people live desperate lives of constant want, the bright prosperous future that was promised to them slipping ever further away.

Nowhere is this stark class divide more evident than in Nemuranai, the foremost entertainment district in Tokyo, where grandiose cabarets, casinos and hotels sit next to run-down dwellings, struggling small businesses and homeless camps. And no matter who you are, if you're not in the pocket of the crime lords, you're living under their thumb. They have a finger in every pie and they only get greedier and more violent with every passing month, making the lives of working people miserable and difficult.
That's where you and your friends come in. You're going to try to set things right and do your part to ease the burden of your friends, your family and that nice old lady who always gives you a little extra in your noodles, even if it means butting heads with the big crime families.
Besides a copy of Agon, you will need to make a copy of this character keeper in order to play: find the character keeper HERE
Purchase
In order to download this playset you must purchase it at or above the minimum price of $5 USD. You will get access to the following files:
Baka Mitai spreads.pdf
9 MB
Community Copy
Support this playset at or above a special price point to receive something exclusive.
Gift a copy
Do you have some spare change that can go towards helping other people get access to this game?

For every purchase made at this price point I will make another community copy available. It's also a good way to make my day by showing me you appreciate my work!
Community Copies
While I do appreciate, you know, getting paid, I don't want finances to ever be the reason somebody can't play my game - especially since you already need to own Agon to be able to play this.
If you can't or don't want to pay for the game, feel free to grab a community copy! I won't tell anyone you did.
Comments
Log in with itch.io to leave a comment.
The character keeper is deleted. Is it possible to fix?
Updated! Please let me know if you can access it.