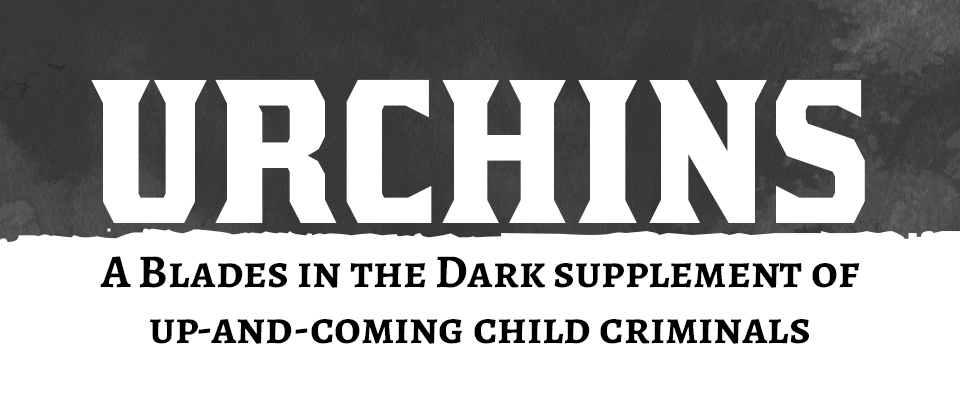 URCHINS - A Blades in the Dark Crew
A downloadable supplement

Life isn't kind to anyone in Doskvol, where lives are crushed under the gears of capital and corruption. But some people are decidedly more vulnerable and less able to fight back than others.
Children are often not present in any given game of Blades in the Dark. We know they exist, as the setting wouldn't be able to work without the pool of labor to be exploited by the capitalists replacing itself constantly, as well as the reserve army of unemployed labor remaining large, allowing these same capitalists and oligarchs to keep wages low as people fight over meager jobs.
These very same children and teenagers in Doskvol likely don't have much in the way of prospects for the future - many of them will be dead before reaching adulthood and those who survive will end up becoming part of the crowd fighting for table scraps. Consequently, a lot of them might find crime to be more profitable, more exciting or safer. They might steal to feed their family, they might kill those who would exploit them, or maybe they feel like innocent-looking kids have a better chance of passing unnoticed when smuggling something dangerous past the Bluecoats.

A new Crew Sheet for your gang of pint-sized scoundrels.
A new Claims Map detailing the progression path your crew will take.
The Stray Playbook/Sidebook, a broad and flexible character concept that is meant to be eventually outgrown.
Suggested safety measures aimed at the fact that while we want to show children's vulnerability, we take no pleasure in describing children becoming victims of violence, addiction or anything else when we sit down to play a game.
Urchins is heavily inspired by the Netflix show Arcane and, while Blades in the Dark is already inspired by the stellar The Lies of Locke Lamora, this supplement is inspired by certain specific chapters in that book.


Huge thanks to Pam for listening to me talk about this project at length and being so encouraging.
Also thanks to Armanda for the support given and for looking over my shoulder while I struggled with the layout for this game.
And thanks to Dissonance for providing BITD-compatible Affinity Publisher templates so I didn't have to go hunting down fonts on my own.
Blades in the Dark™ is a trademark of One Seven Design. The Forged in the Dark Logo is © One Seven Design, and is used with permission.
This work is based on Blades in the Dark (found at http://www.bladesinthedark.com/), product of One Seven Design, developed and authored by John Harper, and licensed for our use under the Creative Commons Attribution 3.0 Unported license (http://creativecommons.org/licenses/by/3.0/).
Purchase
In order to download this supplement you must purchase it at or above the minimum price of $5 USD. You will get access to the following files:
Stray - Playbook.pdf
345 kB
Urchins - Crew playsheet.pdf
288 kB
Urchins - Main Text.pdf
6 MB
Copies that fell off the back of a wagon
Support this supplement at or above a special price point to receive something exclusive.
Be quick! Be quiet!
But grab one at your leisure, no questions asked, if you're in financial hardship, if you're LGBT, or if you're a colonized person.